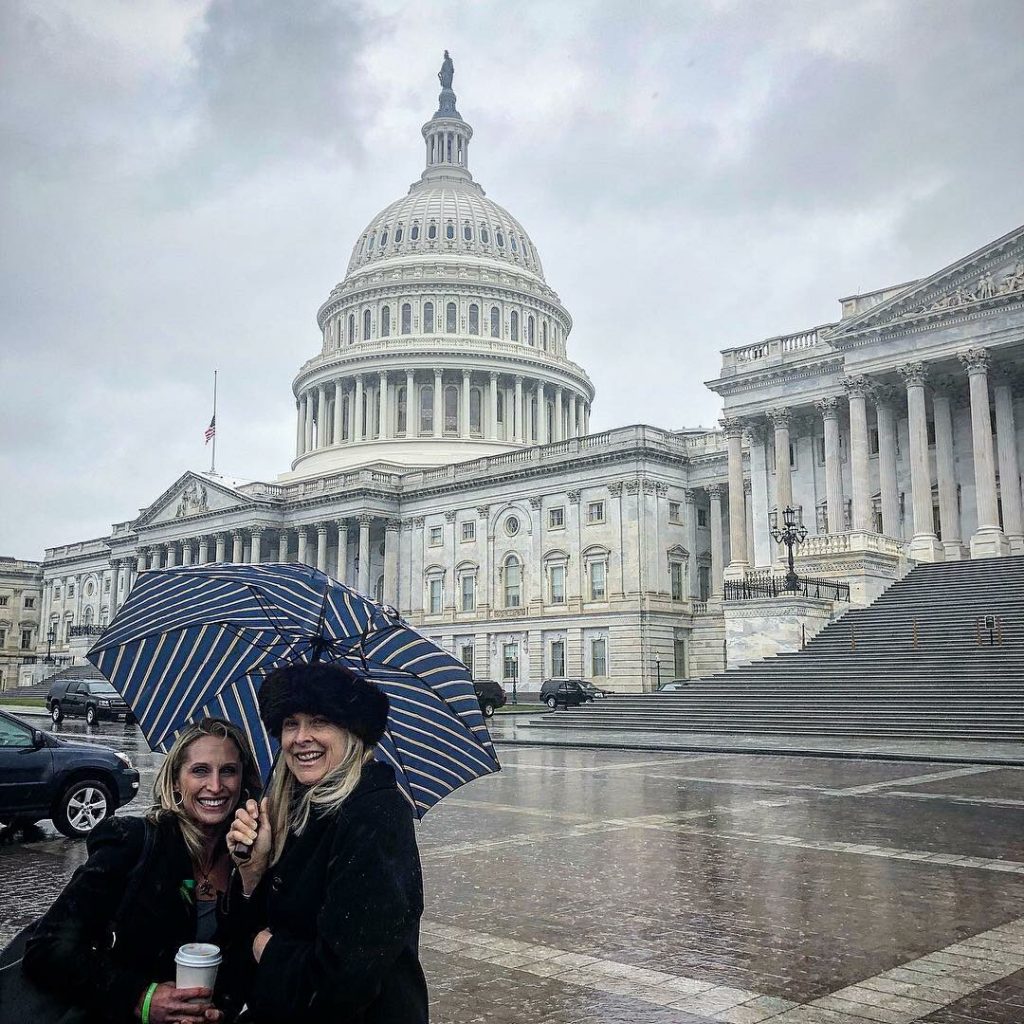 This is one of my favorite pictures from Brain Injury Awareness Day.   Its a picture of Stephanie Freeman and myself, Anne Forrest, with the U.S. Capitol in the background.
Amy Zellmer, Stephanie Freeman and I were trudging in the rain from the Senate Office Buildings to the House Office Buildings on the other side of the Capitol.  It was cold, rainy and windy.
Amy Zellmer and Stehanie thought to stop to get a picture.  Amy is the creative person behind the camera.
The three of us had started the morning attending Coffee with Senator Ted Cruz with a fellow amazing advocate, Cherl Kempf.
Cheryl and I are from Texas and Amy and Stephanie came to support us.
Then the 3 of us went to Senator Cornyn's Office to connect with them and drop off information.
Stephanie is a advocate as an adult for brain health for Children in Georgia.     She had a Traumatic Brain Injury as a child, and feels called to raise awareness for children to give them the awareness and education that she with she had.
She and I have a special bond for several important reasons:
–She invited me to come back to Brain Injury Awareness Day in 2017.     I had organized and been of Awareness Day for 5 or 6 years since about 2005 perhaps.   I had spoken on the Congressional Panel in 2011.  However, when my husband and I moved back to Austin, Texas with my then 2 year old, I needed to take time to be a Mom.  That being said, I continued my leadership of the Brain Injury Advisory Council and thus maintained my phone connection with other national advocates.   As much as I loved being part of Awareness Day,  I did not have time, energy or funds to get there.   I encouraged staff at the Brain Injury Association of America (BIAA) to put up pictures and information and use social media to reach out to those of us outside the beltway and to connect to advocates who were advocating in their States.
–She invited me back in 2016 with an insistent voice, so she gave me a year to get it on my calendar and she followed up with me gently to remind me she wanted to meet me there.   She wanted more than just a phone connection through our Advocacy group.   She wanted the connection that comes with meeting and getting to know someone in person.
–She has always asked about how my son is doing.  She has a son herself.   And she has extra strong sensibility and empathy for the experiences of a child's life.    This is truly a gift and a calling that comes from her experience own experience as a child with lingering effects from a brain injury that most people did not understand or did not recognize.
–Stephanie follows up with me in a friendly way on how my son is doing.  And, 2 years ago, my son had his first diagnosed concussion with lingering effects.   It was devastating for me when it happened.   My husband and I have used our awareness and knowledge finding appropriate treatment for lingering symptoms after my concussion to help him find the resources he needs to read, do math word problems, and reach his potential at school and on the playing field.   And I always knew I could reach out to Stephanie when I needed support, which I did!
–In October last year, I was invited to tell my story as well as my son's story to CDC staff who have been studying pediatric concussion as background for their required Report to Congress.
–I was honored to tell my story and then my son's story to staff at CDC to put our faces on our concussion journey and share our experiences.
–Anne Glang PhD, who was an author of the Report to Congress, was also visiting that day.   She used my son's story and his recovery to generalize issues from the Report.
–As a pre-injury researcher, I know how important it is for researchers to have faces to connect what they learn from the literature to people's experiences.
–I also know that in concussion in particular, anecdotal evidence is so important.     This is especially true when measuring the number of people with concussion with confidence has been so difficult.
–I believe the CDC report is an important document and that the work that CDC and other researchers have done to inform this document will influence how we think about and measure adult concussion.
–I am so glad that the CDC Report is out.   I brought back copies from the CDC booth at the Awareness Day Fair to make sure people in Austin had.
Here's the newly released Report to Congress on The Management of TBI (and Concussion) in Children from the Centers of Disease Control and Prevention:
https://www.cdc.gov/traumaticbraininjury/pdf/reportstocongress/managementoftbiinchildren/TBIRTCExecutiveSummary.pdf