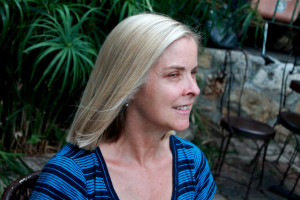 Anne Forrest, Ph.D., has been recognized as one of the nation's leading patient advocates for people with traumatic brain injury.   She lives with persistent symptoms from a mild TBI that she received during a 1997 car accident and continues to recover.   She currently lives in Austin, Texas with her family after living in Arlington, Virginia for 10 years.   In the Washington D.C. area, she volunteered at the Brain Injury Association of America (BIAA) and gave speeches through them and through the Speakers Bureau at Brain Injury Services of Northern Virginia.   In Austin, she speaks on accessibility and brain injury at John Slatin U/Access U and SXSW.   She has also been an invited speaker for Global Accessibility Awareness Day with Deque.
Susan Connors, President and CEO of BIAA, recognized the need to establish a Council of Survivors at BIAA in 2009 and tapped 5 national leaders including Anne.  Susan understood the need for survivors to tell their stories of recovery in a manner that gave "nuggets of wisdom" that could benefit other survivors on their paths to recover.   The Brain Injury Advisory Council currently meets online monthly with BIAA's Director of Consumer Services, Greg Ayotte.   The Council plans and collaborated with BIAA to work on group advocacy projects in addition to Brain Injury Awareness Day on Capitol Hill in March.   The Council is currently working on developing an Alterman Webinair based on their 131 collective years of years.  The focus of the webinair, will for leaders to discuss the early phases of recovery, issues that arose and how they got through them.  The Council has videos on Living Well after Brain Injury on YouTube.    The Council did a Facebook Live Event for Brain Injury Awareness Month (March) on the importance of advocacy.
Anne was asked to speak at the 2011 Brain Injury Awareness Day Congressional Briefing in Washington DC sponsored by the Congressional Brain Injury Task Force on the Value of Rehabilitation.   Anne told her story of her journey of advocating for — and eventually receiving — formal cognitive rehabilitation.  It took her over 3 years after her injury to get it.   She has continued to recover long after the 2 year period that she was originally by her Doctors that her brain could only heal in.    She received a standing ovation.
Anne's inspiring recovery story has been well-documented by the Media.  She has worked hard to make her story useful to help others with TBI.    The article "I want my Brain Back': …One woman's story of perseverance reveals some of the mysteries of the brain" published in The Washingtonian Magazine won best magazine article in the Washington-Baltimore area by the Society for Professional Journalism.   The Global Neuroscience Initiative Foundation Brain Blogger recommends the article saying "This is a wonderful article about a woman's recovery from brain injury.   It's more than just a human interest story, it's helpful."  Several brain injury professionals have told her it is the best short article on brain injury that they have seen.
The Washingtonian Article is used as an educational resource at rehabilitation hospitals in Virginia and Canada for survivors with Post-Concussive Syndrome.  Anne still hears from people all over the world who find it relevant to their journey through brain injury.   Her story has also been told by The Washington Post, The Wall Street Journal, PT Magazine, the Huff Post, the State of Texas Office of Acquired Brain Injury (as part of their Navigating the Brain Maze series) and Austin.com.  (See Media Section for links).
Anne speaks at brain injury conferences, to survivors and their families, to professionals, and to university classes and rehabilitation hospitals.   After hearing Anne speak, Dr Claudia Osborn, author of Over My Head: A Doctor's Own Story of Head Injury from the Inside Looking Out said "[Anne's] story is the best [I] have heard and [I] have heard thousand's of survivor's stories."  Anne's audiences are Medical Doctors and Rehabilitation Specialists including neurologists, neuropsychologists, physical therapists, social workers, case managers; and students of these disciplines as well as lawyers and researchers.    Dr. Forrest has given presentations in Washington, D.C., Williamsburg, Virginia and Northern Virginia, Philadelphia, Pennsylvania, and Austin and Central Texas.  She has also spoken internationally in Toronto and London, Canada.
Additionally, Anne has worked with professionals, clinicians and researchers on several projects:
She worked with case managers at Brain Injury Services of Northern Virginia to develop a 10-session educational seminar series to provide information about self-care and recovery tailored specifically for people with mild brain injuries who often have difficulty getting appropriate services.    Survivors have said that the program alone helps them educate themselves and their families about the injury.
She was an Expert Consensus Group Member for the development of Guidelines for the Management of Persistent Symptoms following mild Traumatic Brain Injury/Concussion and for the first revision of the Guidelines in 2013.  This work is sponsored by the Ontario (Canada) Neurotrauma Foundation.
She represented the Brain Injury Association of America on the Advisory Committee for the development of a classification system for improving rehabilitation.     Researchers and Clinicians at Mt Sinai Hospital and Kessler are the investigators on the grant.  The Project is called the Rehabilitation Treatment Taxonomy.